ZEPPELIN SIGHTSEEING FLIGHTS OVER SOUTHERN GERMANY, AUSTRIA & SWITZERLAND
The special experience at the Bodensee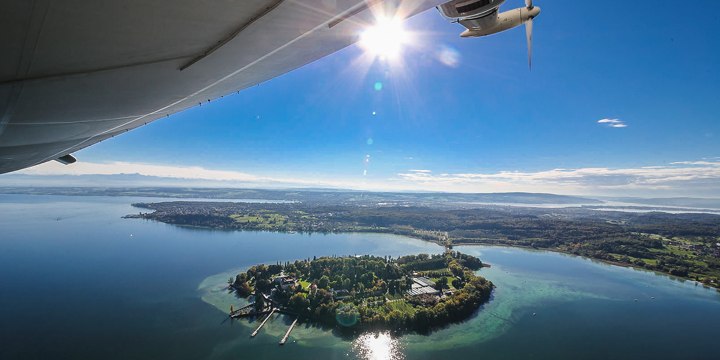 Bodensee - one of the most popular vacation regions in southern Germany and home of the Zeppelin NT. The sightseeing flights always start at the Zeppelin hangar in Friedrichshafen. Choose between 12 different flight routes and enjoy the border triangle from a new perspective. Whether Austria, Switzerland or Upper Swabia - the views from the Zeppelin NT are always spectacular.
The engines whir quietly, majestically the Zeppelin NT lifts, quickly the cruising altitude of about 300 meters is reached. Unbuckle, walk around, look over the pilot's shoulder or enjoy the fantastic view from huge panoramic windows. The choice is yours, because the world is at your feet.
The low altitude leaves room to see details on the ground. Clear the stage for varied scenery: from the green Allgäu region to castles and palaces on the Bodensee or the typical architecture in the Vorarlberg region to colorful islands and unique views along the foothills of the Alps. 12 routes around the Bodensee and selected city trips within Germany will give you new perspectives.
A Zeppelin flight is the highlight of any vacation or weekend getaway and is guaranteed to be a very special experience.
SIGHTSEEING FLIGHTS MÖNCHENGLADBACH
Magnificent views of the MedienHafen, Borussia Park and Tagebau Garzweiler
Experience the Rhineland from a unique Zeppelin perspective.
Read more
SIGHTSEEING FLIGHTS FRANKFURT
Breathtaking views of the metropolis on the Main
A scenic flight over the major financial hub with its distinctive skyline.
Read more