Zeppelin experience
Fascinating moments and spectacular technology - the perfect gift for anniversary, anniversary or wedding
In the world of the Zeppelin NT, you can do much more than just take off. A versatile themed world lets you immerse yourself in interesting facts, fascinating technology you can touch and enjoyable experiences.
Welcome to the Zeppelin Hangar in Friedrichshafen!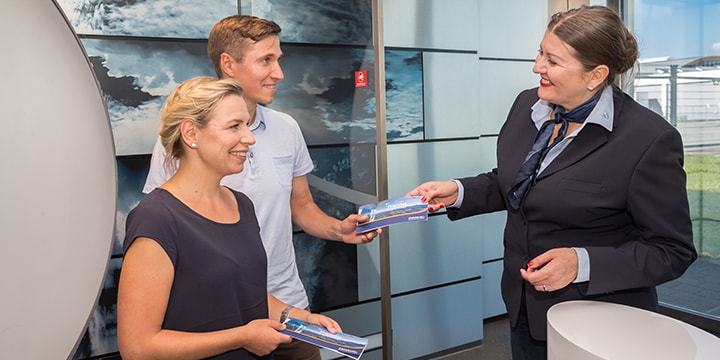 During a Zeppelin shipyard tour, you will experience the unique technology of the world's most modern airship - up close. You will learn interesting facts about the unique construction and the many uses of the Zeppelin.
Stylish ambience, high-quality cuisine and the feeling of the unique will inspire you in the restaurant Zeppelin Hangar FN. Here you can indulge in the carefree anticipation of the flight or share the experience afterwards - over a good meal. So your visit to the hangar as a group or as a couple will be a memorable experience. Whether in the restaurant, in the lounge or from the large terrace - the special setting tempts you to linger. You look directly onto the Zeppelin airfield and one thing is certain: every take-off, every landing of the Zeppelin will enchant your gaze. The perfect location for your anniversary, anniversary and celebrations of all kinds.
The restaurant is also available for smaller and larger events. Invite your guests, clients or employees to this extraordinary place and leave an impression. In the Zeppelin Hangar FN or perhaps together with an event in the Zeppelin shipyard. Combined with an exclusive Zeppelin flight, your incentive event will be remembered for a long time.
The Zeppelin NT is a very special location to start into marital bliss. Because after the wedding ceremony it goes upwards, towards the sky - as a couple with your partner or together with your guests!
For pilots we offer the experience of a special kind: a flight training including training flight in the Zeppelin NT - you take the wheel and may start and land the Zeppelin NT.
RESTAURANT
Not only the special scenery invites you to linger
In addition to the fascinating view of the Zeppelin airfield, excellent cuisine and stylish ambience await your visit.
Read more
SHIPYARD TOUR
Immerse yourself in the fascinating world of Zeppelins
During a guided tour you will get to know the Zeppelin up close and feel its unique lightness.
Read more